I absolutely love fabric. I would like to just collect fabric and display it in gorgeous bundles like this all over my house! I especially love soft, beautiful quilting fabric made by Moda! This is their Noteworthy Collection.
John'aLee has her Quilt Along very organized on her blog with a new quilt block every week for the year! (She started in January so luckily I was only behind four blocks!) She does great tutorials and has step by step pictures.
Its been a long time since I made a quilt (a few years actually) and once I got my fabric spread out I was a little stumped on where to begin. I decided to make it easy on myself and since I have this fabulous collection of colors I made the choice to basically stick with a consistent color combination for each block.
This was Block One in the series and I have to admit that I am so completely out of practise I had a terrible time lining things up, getting my points to point, etc... I was almost in tears with this block. Can you tell? (I may actually re-do it sometime in the not so near future.)
This was Block Two in the series, and it went much smoother. I started to get my confidence up a little bit! I love this Noteworthy Collection of fabric. The colors really make me happy!
This is Block Three. I love, love, love this one! I love the color combination, love the pattern, love that my points are actually pointing!!! It was a little tricky I have to admit.
Block Four was a disaster. I guess I'll blame it on the fact that it was late, the lighting in the travel trailer was terrible and this block was just plain hard!!! (John'aLee do you hear me?!)
There are my January blocks for the Quilt Along. By the way, this is called The Rancher's Daughter Quilt and is the design of John'aLee's. I love that she has a little story behind the blocks she is designing. I can relate, as I too am a Rancher's Daughter.
I'll hope you'll check out her blog and join in the fun of The Rancher's Daughter Quilt Along. Its not too late to start!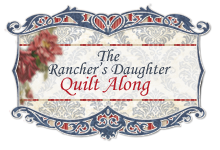 This week I am linking to these fabulous parties: