Today I would like to tell you about my kitchen faucet!
When
Pfister
contacted me to see if I'd be willing to do an honest review in exchange for a faucet of my choice for my new kitchen I was so excited!
I stewed over my choice for weeks. They have some of the most gorgeous faucets I've ever seen. I debated on whether or not to get a high arc gooseneck like this:
Pfister Avalon Faucet
A faucet with the pull down spray spout like this: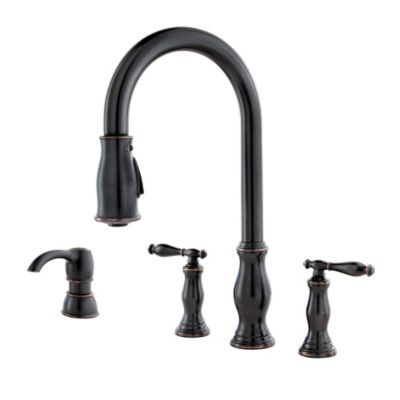 Pfister Hanover Faucet
One with the water handle right on the faucet like this: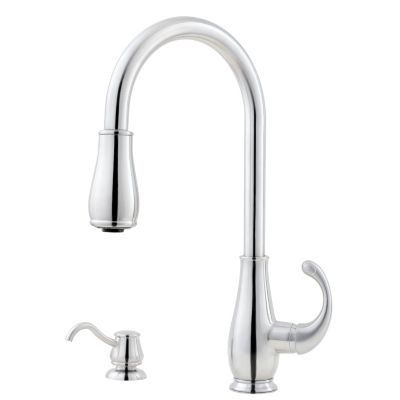 Pfister Treviso Faucet
Or what????
The only thing I was sure of was that I wanted the Oil Rubbed Bronze finish. The way our kitchen sink sits in the middle of the huge island open to the living room a beautiful faucet was a must. I kept coming back to the
Marielle
. It comes in several different variations but the one I chose has a combination of all the things I wanted: high arc gooseneck, separate side sprayer, one water handle and matching soap dispenser.
I love it. And I mean, I absolutely love it. Not only does it have all the features I want, but it is incredibly beautiful when you look at it from all the places you can see it: the kitchen, the dining room, the living room and the upstairs! It is the perfect compliment to my apron front sink and my butcher block counter tops.
When the faucet arrived and we removed it from the box we were both impressed with how heavy and solid it was. When Eldon installed it using the enclosed instructions he said he was very happy that the instructions were specific to that faucet and not just generic for all faucets. It made it very nice for installing.
He was impressed enough with the kitchen faucet that we purchased all Pfister for our bathrooms.
One of the best things about the Pfister faucets is their lifetime warranty; not only in function but also the finish of the faucet.
So.... in celebration of my gorgeous new kitchen and my beautiful Pfister faucet, which I highly recommend, Pfister is offering you a free faucet of your choosing, up to a $300 value.
Thats all you have to do to enter the give-away! (Please make sure your email or contact information is attatched to your comment so I have a way of contacting you if you win.) If you are not in need of a new faucet, please enter the give-away anyway.... don't you think it would be a great gift for someone you love?! (Smile!)
Hope your weekend ahead is perfect! I'll be back next week to announce a winner!